Avoca & Meeting of the Waters - 10th April 2022.
Click on pictures to view the full size image. Use the up and down arrows on your keyboard to scroll through them or click on slideshow and sit back.
South Dublin Members, Meeting of the Waters, 10th April 2022 (picture: Niall Hatch)
A total of 25 South Dublin members gathered at St. Patrick's Church car park on a cold but dry April morning for our outing to Avoca and The Meeting of the Waters. The outing was very ably led by committee members Niall Hatch and Robert Busby. Almost immediately, there was a Red Kite circling overhead and gradually we got to see several more, some at close range. The group decided to move to the bridge overlooking the Avoca River where a further six or seven Red Kites flew into view. After a minute or so, a Buzzard, spotted by Robert Busby, appeared, circling high up.

Later on, three Siskins were spotted by Niall Hatch, along with Chaffinch, Blue Tit, Mistle Thrush and Blackbird, all in and around the garden of a riverside building.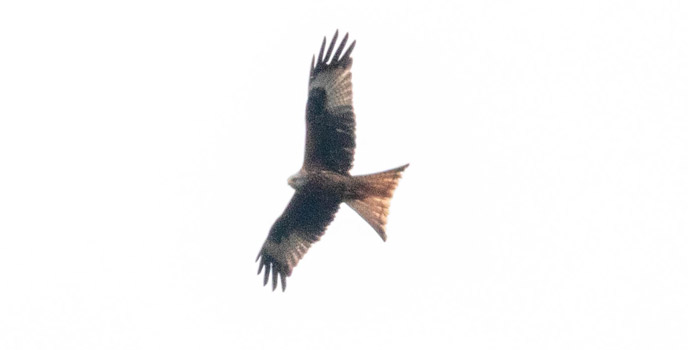 Red Kite, Avoca, 10th April 2022 (picture: Bill Rea)
Leaving Avoca we made the short journey to the Meeting of the Waters and the Thomas Moore Memorial Park that is situated at the confluence of the Rivers Avonbeg and Avonmore and we assembled just beside the three arch bridge over the Avonbeg. We spent a while looking for Dippers and after ten minutes searching, one was seen on rocks in the river just inside one of the small arches. This bird was soon joined by its mate, which was carrying nesting material.

Suddenly we saw a flash of blue, it just had to be a Kingfisher, but it didn't hang around. It shot out from under one of the arches, promptly did a U-turn and flew back up the river. We did see it one more time, but once again, only very briefly; nevertheles it was a wonderful sight to enjoy.
Dipper, Avonmore River, 10th April 2022 (picture: Bill Rea)
Later, Niall and Robert heard a Treecreeper, a nice tseep coming from some distance off. This was followed by a Coal Tit in a nearby tree and then, minutes later, we saw two Ravens mob a Red Kite, a fantastic sight.
Some More Pictures
All in all, a wonderful day that finished at 11:00. Some of the group departed but most headed for the nearby hotel,'The Meetings' for a hot cup of coffee to warm ourselves after a cold but eventful morning. Thanks to everyone who came as it was a great outing.
Robert Busby