Avondale Forest Park, Wicklow - 7th April 2019.
Click on pictures to view the full size image. Use the up and down arrows on your keyboard to scroll through them or click on slideshow and sit back.
South Dublin Members at the Avondale Forest Park car park, 7th April 2019 (picture: Joe Hobbs)
Avondale House and Forest Park are located just a few miles south of Rathdrum, Wicklow. The park covers 505 acres of rolling mature woodland that is interspaced with numerous walks and trails. Nowadays it is maintained by Coillte, but has passed through a number of owners since built in the late 18th century, including the Parnell family and was the birthplace of Charles Stewart Parnell. On our only previous visit, almost four years to the day since, we endured storm force winds and lashing rain throughout, thankfully this time around it was a fine dry day with little or no wind and our visit coincided with a fun run in aid of Temple Street Hospital.

About 30 South Dublin members met in the estate's car park at 09:00 and after some brief announcements set off, ably led by Niall Hatch, stopping regularly to scan for birds. Initially we proceeded along the 'Great Ride' a vast grassy avenue of open parkland bordered on either side by dense woodland. Near its end we noticed a cairn, built by forestry students with stones collected while clearing fields on the estate. Departing the Great Ride we joined the 'River Walk' that meanders high above the Avonmore River, following along it until eventually arriving at Avondale House (currently undergoing renovations and closed to the public) where we finished up around noon.
Buzzard, Avondale Forest Park, 7th April 2019 (picture: Bill Rea)
As might be expected during a woodland outing the majority of birds seen were passerines but there were some exceptions. We had three raptor species, Red Kite, Buzzard and Sparrowhawk. First of these was a female Sparrowhawk being mobbed by a couple of Hooded Crows as it flew across the Great Ride and shortly after, the brief appearance of a Red Kite heading in the opposite direction. Then later, from the River Walk, soaring high to the west were a pair of Buzzards and a Red Kite (probably the same one seen over the Great Ride earlier). As we watched a Raven flew in to view which provided an immediate indication of the larger birds sizes.

Other non-passerines seen were a few Mallard on the Avonmore River, plenty of Woodpigeons everywhere, some Lesser Black-backed Gulls and heard but not seen, Pheasants making their croaking noises.
Blackcap, Avondale Forest Park, 7th April 2019 (picture: Gustavo Zoladz)
A sure sign that spring is underway were the four migrant species we encountered. Singing their hearts out were good numbers of Blackcap and Chiffchaff. Blackcap song is a series of melodic notes, very pleasing to the ear, whereas Chiffchaff does little more than repeatedly call its name. Perhaps surprisingly we only had a single Swallow and a single House Martin, these recently returned from Africa. Swallows winter mainly south of the equator and House Martins to its north, both vast distances made on a diet of insects.

From the tops of trees along the Great Ride the constant racket and activities of a rookery and the ground beneath splattered white with their leavings. Elsewhere near the river Justin Ivory discovered a Hooded Crow nest high near the top of a tree but the adults soon departed and so did we. Other Corvids seen were a Jay, a Raven and plenty of Jackdaws and Magpies.
Mistle Thrush, Avondale Forest Park, 7th April 2019 (picture: Bill Rea)
All three resident thrushes were present, Blackbird, Song and Mistle Thrush. On two occasions speckled blue egg shell fragments were noticed on the ground and our best guess was they were either those of a Song or Mistle Thrush. The fragments did not appear to have been predated as they were cleanly broken as a chick would do while hatching. Most likely they had been carried where we found them by the parents in order to discard them well away from the nest to avoid advertising its location.

Along the Great Ride we noticed a clump of feathers that are the tell-tale signs of a predator kill. The prey appeared to have been a Woodpigeon and the predator possibly a Fox?
Larch, Avondale Forest Park, 7th April 2019 (picture: Justin Ivory)
Avondale is regarded as the birthplace of Irish forestry and many of the typical species planted for the Irish forestry industry were initially trialled at Avondale. The estate hosts a range of deciduous and evergreen species from all over the world including Californian redwoods. We particularly enjoyed the many Larch we saw, one of the very few deciduous conifers that sheds its needles in autumn. At this time of year they are teaming with new growth and looking spectacular.

Apart from the racket made by Rooks the most vocal and persistent songs heard were from Great, Coal and Blue Tits, Robin, Goldcrest, Chaffinch and Wren and they were just about everywhere, less often heard and seen were Long-tailed Tits. It is astonishing that such a tiny bird as a Wren, about ten grams soaking wet, can produce such a mighty song!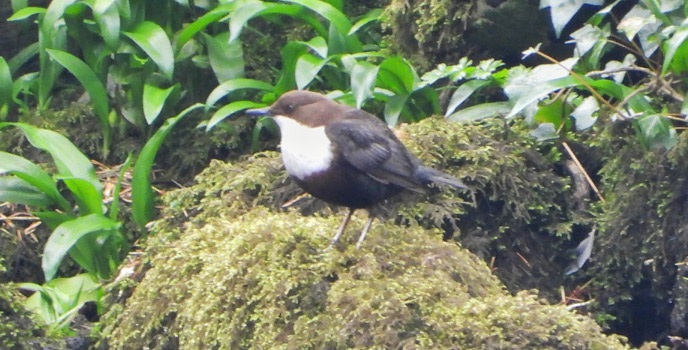 Dipper, Avonmore River, 7th March 2019 (picture: Gustavo Zoladz)
The River Walk afforded us the chance of a different selection of species. One possibility that eluded us was Goosander, but we would have required a considerable slice of good luck to connect with one. However Dipper and Grey Wagtail didn't disappoint and we had both along the river.

Earlier, a lucky few of the group had a brief sighting of a Treecreeper at the Great Ride and we had heard them occasionally also. But we had to wait until we were on the River Walk to get decent views. Initially it was flitting about but soon settled on a branch long enough for everyone to see it.
Some More Pictures
Birds & Insect
Forest Park & South Dublin Members
The forest park is a truly beautiful and tranquil place and we had a great outing. It is so vast we only barely scratched the surface this time, which surely means we will have to return for a third visit to explore other parts.
Joe Hobbs