North Bull Island - 9th December 2018.
Click on pictures to view the full size image. Use the up and down arrows on your keyboard to scroll through them or click on slideshow and sit back.
South Dublin Members on the Bull Island, 9th December 2018 (picture: Joe Hobbs)
Our last outing of 2018 took us to the fantastic North Bull Island. It is the most recent part of Dublin to be formed as the result of a build up of silt following the construction of the North Bull Wall in the 1820s. By 1900 the island's geography had more or less become the one we are familiar with today. The Bull is a Special Protection Area under the EU Birds Directive and is especially important for wintering wildfowl and waders.

The weather forecast predicted a break from the recent storms and sure enough we enjoyed a morning of clear blue skies, albeit in a stiff northwesterly breeze. This enticed about 30 South Dublin members to make the trip across the city to assemble on the Causeway Road at 10:30 where they were welcomed by Branch Chairperson, Eleanor Keane. We began by scanning north towards Sutton before making our way along the road towards St. Anne's Golf Course, then crossed the Causeway Road to look south towards the Port of Dublin before finally making our way back along that side of the causeway.
Pintail, North Bull Island, 9th December 2018 (picture: Gustavo Zoladz)
There were good numbers of wildfowl to enjoy; Mute Swan, Brent Goose, Shelduck, Mallard, Pintail, Shoveler, Teal and Wigeon were all giving good close views. In winter there are just a few locations where Pintail can be found in big numbers and that includes the Bull, which hosts one of the largest aggregations of this elegant duck in Ireland. The Brent were the pale-bellied variety, one of three subspecies. The majority of Pale-bellied Brent that breed in the Canadian High Arctic from Melville Island eastwards winter in Ireland. Both other forms of Brent, Dark-bellied Brent and Black Brant, have very occasionally been recorded on the Bull.

A few Grey Herons and Little Egrets were in the saltmarsh. The herons stood like statues patiently waiting on prey to swim by, while the egrets, in contrast, were dashing about in pursuit of fish.


Curlew, North Bull Island, 9th December 2018 (picture: Gustavo Zoladz)
We saw a few Curlew, mostly foraging about in the saltmarsh. Its long down-curved bill and evocative call make it one of the most familiar waders to Irish bird-watchers. Large numbers from Britain and further east winter in Ireland. Its a completely different story for the Irish breeding population, which is estimated to have lost almost 80% of its population since the 1970s.

Others waders present were Oystercatcher, Redshank, Dunlin, Black-tailed Godwits, Knot and Golden Plover. A large flock of perhaps a few thousand was seen circling high over the southern end of the island. At that distance we just couldn't quite make out what they were but most likely they were Golden Plover, although Knot was also a candidate. Whatever they were it was a spectacular sight.
Gulls and waders, North Bull Island, 9th December 2018 (picture: Gustavo Zoladz)
We had four species of gull in good numbers, Common, Great Black-backed, Herring and Black-headed. Common Gull seems a poor choice of name for a gull that is not all that common, perhaps 'locally common' would be more accurate. As well as breeding in the west and northwest of Ireland they are also winter visitors from European populations. On the Bull they seem to like standing atop the many wooden stakes that are dotted around the place.

Those that arrived early were treated to a Peregrine Falcon that was causing havoc in the saltmarsh. It seemed like it would hang around long enough for everyone to get a good look, but soon vanished from view and was not seen again while we were there.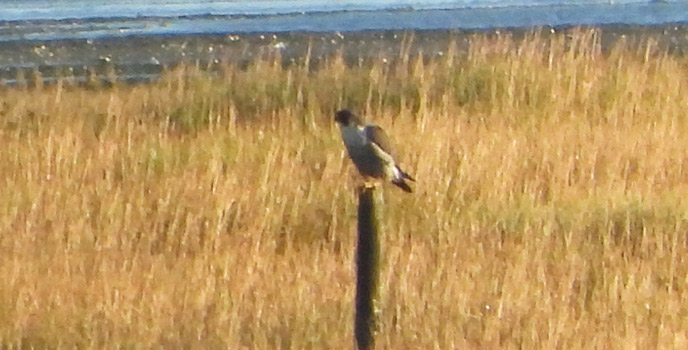 Peregrine Falcon, North Bull Island, 9th December 2018 (picture: Gustavo Zoladz)
Most species that winter on the Bull are non-passerines, but if you look carefully you can find some passers. Small flocks of Linnets were the most obvious that were seen from time to time ranging around the place. The occasional Meadow Pipit popped up, making itself known with its signature 'sip sip' call. Finally some Reed Buntings were in the saltmarsh close to St. Anne's Golf Club.
Some More Pictures
With the clock approaching lunchtime we decided to finish up. Some branch announcements were made and after thanking everyone for attending we headed home satisfied with our morning's work.
Joe Hobbs