Sligo Weekend - 10th & 11th March 2018.
Click on pictures to view the full size image. Use the up and down arrows on your keyboard to scroll through them or click on slideshow and sit back.
South Dublin members on the Sligo weekend (picture: Ronan Browne)
Having spent the weekend under Ben Bulben's head and seen it from various aspects I had to pay homage to W.B. Yeats. However time constraints and birding priorities meant we did not visit the churchyard. Another time... It is a wonderfully scenic area and a much gentler landscape than other more renowned tourist regions. It has many interesting bird watching possibilities and we got to just a few this time.

Having departed Dun Laoghaire at 08:00 and with one brief stop and a twenty minute unexpected detour, all 29 of us were looking forward to a quick lunch at Davis Yeats Tavern before joining up with Michael and Molly Bell from the Sligo Branch. While awaiting us they had done a brief recky of the adjacent wooded area and sighted a Red Squirrel the first one Michael had ever seen in that area.
Barnacle Geese, Lissadell, Sligo (picture: Rachel Hynes)
The brief stop we took on the journey west was at Lough Owel off the N4 northwest of Mullingar. A car park there has easy access high above the lake giving us a good view of what at first seemed a bird free zone. With the aid of bins and scopes, several Great Crested Grebes appeared and a good sized raft of Goldeneye. Great views of both species and that was as good as it got, until a pair of Great Crested Grebe began their courtship display complete with crest and tippets erected, diving and coming up with pond week and presenting it to the other. Some magical moments for all who saw it, such a thrill to witness in reality what we have all seen on wildlife programmes.

After lunch Michael Bell led us to the Lissadell 'Goosefield', which is managed for Barnacle Geese by BirdWatch Ireland. From the hide we witnessed 1,500 Barnacles grazing contentedly with that evocative low murmur, and very many of them so close that no optics were necessary to enjoy the detail of these spectacularly plumaged black and white geese. No sighting of two Cackling Geese that accompany the Barnacles but that would have been a real needle in a haystack find.
Mullaghmore Harbour, Sligo (picture: Angela Mason)
Other birds at the winter lake in the 'Goosefield' included Wigeon, Teal, Shoveler and a large flock of Golden Plover. On the sea we saw Great Northern Diver and Red-breasted Merganser. Along the shore were Brent Geese, Redshank, Greenshank, Shelduck, Oystercatcher, Curlew, Grey Wagtail and some woodland birds including Goldcrest that was heard from the hide. Having enjoyed our time with the Barnacle Geese, one of our main targets, we moved on to Raghly Point. It had begun to rain and was quite misty with poor visibility but we had a good return for our efforts. Seen here were two small rafts of Common Scoter, many waders already mentioned plus Red-throated Diver, Ringed Plover, Turnstone, Grey Plover, Black Guillemot and Rock Pipit and a couple of Greenfinch on a wire.

Arriving at Pier Head Hotel, Mullaghmore at 17:30 we checked in and for those who wished, a stroll about the harbour was arranged for 18:00. The stone harbour and pier, built in 1828 is an impressively huge building, with a narrow entrance, offering shelter from the north and east. This imposing harbour, was sponsored by Henry John Viscount Palmerston, and designed by Alexander Nimmo (1783-1832). It is an essential and dominant component of Mullaghmore.
Raven, Sligo (picture: Rachel Hynes)
As for birds that evening there were a few Pied Wagtails gathering to roost probably in nearby trees, a Raven skirted the harbour wall and departed again, a Robin serenaded us and a Blue Tit viewed us from a nearby wall and disappeared into a bush. A group of Sanderling flew in to the far shore and we had a comparative view of Herring Gull and Common Gull as they patrolled the shore line. We called it a day and all had a really good dinner and possibly a drink or two to end a very fulfilling day.

All ready to go at 09:30 on a dry but cool morning. We headed up the road from the hotel where on the right hand side there are rocky outcrops and some high cliffs. Four Purple Sandpipers were roosting on the tip of one rocky spit and many Rock Pipits were flitting about. Next was a raucous gathering of Kittiwake on the sea with some occasional flights displaying their two-tone grey backs and wings well, as we were mostly looking down on them. Fulmar, Herring Gull, Great Black-backed Gull were prominent, as were Shag with breeding crest and Cormorant. A pair of Raven keeping a close watch to a particular area proved to be nest building on a pretty inaccessible ledge below us. Many Jackdaws nest on this cliff, and we were on the look out for possible sightings of Chough but none came by.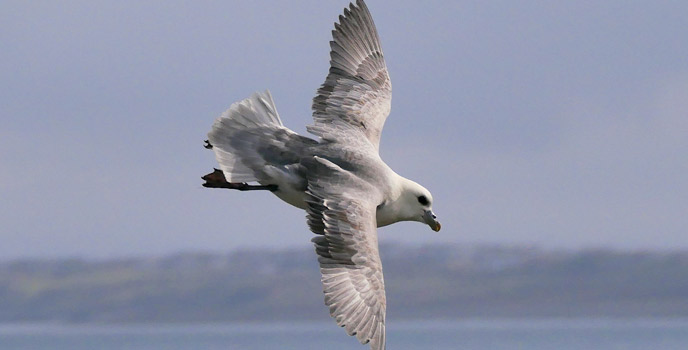 Fulmar, Sligo (picture: Rachel Hynes)
As we progressed uphill more of the spectacular Atlantic west coast opened up to us and with that wide view. Some 29 Whooper Swan flew in to the bay and settled on the sea, they were remote but scopes gave good views. A little later we had a group of 18 Whoopers again flying in a long ribbon and dropping down on the sea somewhat closer. Another target ticked! Next up were Eider Duck diving and disappearing as they do but eventually five male and two female settled on the sea close below us, superb views through scopes provided many with first sightings of these statuesque ducks. The males in splendid black and white with delicate green nape and apricot chest were admired. The ability to see views of white markings on the female's brown tweed like back, through the excellent scopes was a real treat. Such tiny eyes for large ducks! Another target achieved.

The fields on our left hand side provided us with House Sparrow at the edge of the village, Dunnock, Meadow Pipit, Stonechat and Skylark in aerial display and song.
Dunnock, Sligo (picture: Rachel Hynes)
Next it was on to Bunduff Lake, again looking empty until bins were raised. There was a very large flock of Golden Plover so well camouflaged one could easily overlook them. We had many species of duck, Little Grebe, four Whooper Swan heads visible through the reeds and Lapwing, many of them doing flyovers giving us an opportunity to admire their agility in the air with those over-oversized wings. Next stop was Mermaid Cove, where many of us had the best ever views of a pair of Common Scoter. A male with yellow bill marking and female with pale neck, clearly seen through scopes and differences noted which is well neigh impossible from the usual distant views. Disappointingly not a trace of Long-tailed Duck, which has been a regular visitor to this cove in previous years. Many Great Northern Divers seen off shore, and four Razorbills kept us busy trying to locate them as the dipped and dived.

Onwards to Streedagh Cove and beach. The cove can be good for gulls but nothing unusual to be seen on this visit apart from another Ravens nest under construction. A solitary Sanderling flew in and was dusted with a golden touch of summer plumage, a reminder that the migration northwards is not far off now. We picnicked on the beach though it was not ideal picnic weather. It was here that three of the ships of the Spanish Armada were blown ashore in 1588 and foundered with many lives lost. There is a memorial to that event on the dunes.
Iceland Gull , Sligo (picture: Rachel Hynes)
Last call of the day was at the Quay car park where Michael had Iceland Gulls lined up for us! They did not let him down, and as we walked towards the Garvoge River side the juvenile Iceland Gull swooped down lured by some bread bait! We had plenty of time to admire it and a little time later an adult Iceland Gull joined in. So nice to see a full adult Iceland Gull it is so often the immatures that are more prominently seen by us in winter. The gulls roost on the many roof tops in the area and some good images of gulls were captured. Michael told us about Tarfie, a Common Gull that was ringed as a nestling at Loch Tarff in the Scottish Highlands on 26th May 1997 and has been seen in Sligo Harbour every winter since 2004. It has the ring on the left leg which is unusual and can often be seen sitting on the harbour wall or its favourite lamp post.
Some More Pictures
That was the extent of our birding efforts and the total species seen on the trip was 81, a satisfactory result from a total of ten hours birding. Thanks due to Niall Hatch for leading the trip and sharing his extensive bird knowledge and to all branch members who willing shared their telescope views. Also to our coach driver Ian who gave us great assistance in getting to all the sites we wished to visit.
Eleanor Keane